Il Trono di spade con la conclusione della settima stagione ha per alcune persone deluso le idee iniziali , seppur rimanendo a livelli altissimi è sembrato quasi mancassero delle puntate con uno snellimento esagerato del cast. Tanto da rimanere praticamente solo con Stark, Targaryen , Lannister e Greyjoy (che praticamente servono come trasporto marino da ambo le parti, anche se per le promesse fatte Euron avrebbe dovuto far sembrare Ramsay Bolton un cagnolino a suo confronto.)
Il Trono di spade 7 ha oscurato personaggi finora chiave per il gioco del trono come Tyrion, Varys e Ditocorto che da dominatori , menti acute che tenevano in scacco Westeros sono diventati ombre di ciò che erano un tempo:
Tyrion ha sbagliato praticamente tutte le strategie in battaglia tanto da far sospettare qualcuno di essere un traditore;
Varys è stato minacciato di morte addirittura dalla sua regina;
Lord Baelish da genio indiscusso , mente che riusciva a giostrare contemporeaneamente gente del calibro di Lord Tywin , Ned Stark , Catelyn Tully creando situazioni a lui favorevoli, forse causa mancanza di ruolo in questo finale di serie o forse causa personaggio troppo ingombrante , credo che Martin lo gestirà in modo completamente diverso, è stato ridotto ad un uomo viscido che viveva in penombra , lasciato senza via di fuga da Sansa e fratelli dopo aver ripetuto a quest'ultima per tutta la stagione
"Non combattere a nord o a sud. Vivi ogni battaglia, ovunque, sempre nella tua mente. Tutti sono tuoi amici e tutti tuoi amici. Ogni possibile combinazione di eventi è presente in ogni momento. Vivi così, e non avrai sorprese. Tutto quello che succede sarà qualcosa che hai già visto prima. "
Ecco perchè secondo alcuni la settima stagione di Game of Thrones si è trasformata in una più classica versione fantasy a causa della mancanza dei libri portanti.
L'Ottava stagione de Il Trono di spade secondo fonti ufficiali e non dovrebbe arrivare verso minimo fine 2018 , qualcuno dice addirittura aprile 2019 , ma noi siamo ottimisti e speriamo in un natale in compagnia di Giovanni Neve e company , in linea di massima minimo un anno/un anno e mezzo ancora di attesa , ecco per cui ora sintetizzeremo le teorie prospettate dal fandome per la season finale di Game of thrones!
P.S: non allarmatevi sono teorie, le varie leak sull'ultima stagione fortunatamente sono state etichettate al 99% come fake , anche perchè personalmente facevano abbastanza pena oltre che piene di ovvietà.
Ora partiamo, le teorie andranno in ordine di probabilità ,finendo per quelle che troviamo meno plausibili: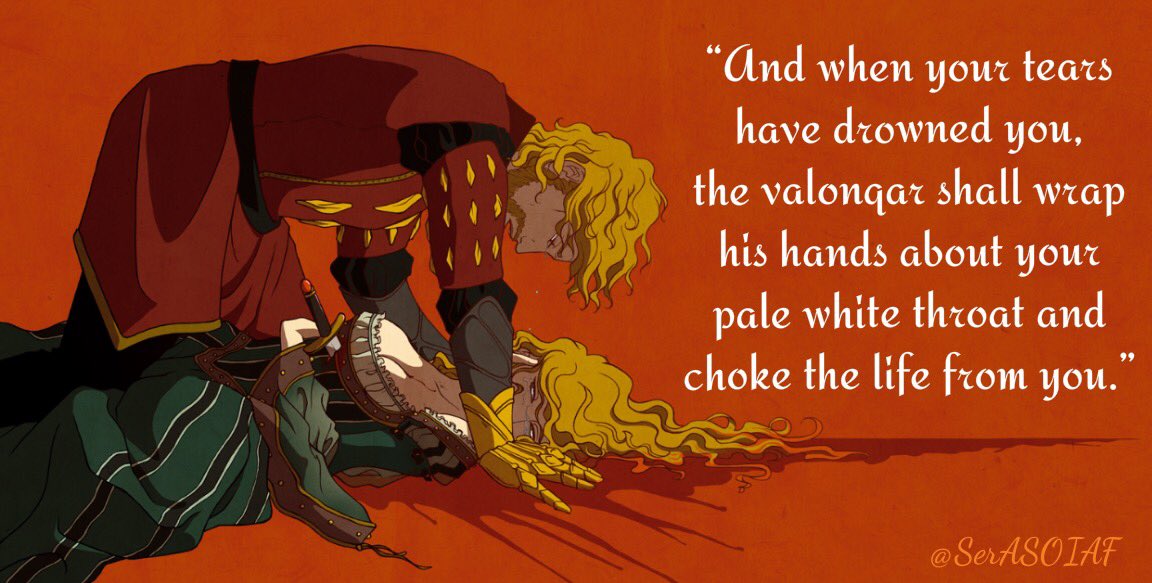 1) Jaime Lannister sarà il Valonqar
Quando è ancora una bambina, Cersei si sente profetizzare da Maggy la rana che ella morirà morta per mano del "valonqar", che significa "fratello minore" in Alto Valyriano. Non si sa chi sia il Valonqar al momento, ma si pensa possa trattarsi di qualunque personaggio sia un fratello minore.
Ergo la scelta più probabile dovrebbe essere Jaime , visto anche il cameo di Ed Sheeran nella serie che canta la canzone "Hands of gold" , che se nel libro è dedicata a Tyrion , nella serie sembra si riferisca proprio al leone di lannister Jaime!
E quando sarai annegata nelle tue stesse lacrime, il valonqar chiuderà le mani attorno alla tua gola bianca e stringerà finché non sopraggiungerà la morte
Le altre papabili proposte sono: Arya , sappiamo tutti che Cersei sia ancora nella lista; Sansa , una gloriosa vendetta da parte di Lady Stark? ; Tyrion , anche se dopo il finale di stagione non sappiamo cosa si siano detti rimane comunque grande astio tra i due , anche se personalmente dubito Tyrion riuscirebbe a fare un qualcosa del genere con sua sorella.
2) Daenerys incinta di Jon , morirà di parto.
Purtroppo sappiamo che le morti di parto in Westeros sono elevatissime , soprattutto tra i targaryen capita spesso si abbiano conclusioni del genere , per cui molti ipotizzano che la fine di Daenerys nata dalla tempesta sia proprio questa e che addirittura sia collegata con il fatto che Jon Snow sarà il prossimo Azor Ahai.
Personalmente non mi affascina come tesi seppur molto probabile, la trovo abbastanza banale , preferirei una morte in battaglia. Di sicuro dubito che la nostra khaleesi vedrà mai il trono.
3) Bran Re della Notte
Partiamo dal presupposto che i poteri di Bran nel Trono di spade derivino dall'oscurità. Lo stesso Brynden Rivers non lo tiene nascosto , ma partiamo per gradi, nei libri dove si ha più background sappiamo che al dio della luce vi è contrapposto Il Grande Estraneo , colui che dona i poteri ai suoi sottoposti , la stessa Nan raccontando le vecchie leggende popolari apostrofa le sue credenze pensando che il Re della Notte sia uno Stark.
Bran Stark ricorda le storie che la Vecchia Nan gli raccontava. Secondo i suoi racconti, molte persone sostengono che il Re della Notte fosse un Bolton, o un Magnar delle Isole Skagos, un Umber, un Flint, un Norrey o un Woodfoot. Tuttavia, la Vecchia Nan crede si tratti d uno Starkdi Grande Inverno chiamato Brandon e fratello del Re del Nord.
Ergo se la storia del Trono di Spade fosse un loop temporale in cui periodiocamente si dovesse ripetere il ciclo di distruzione e creazione (in stile norreno una sorta di Ragnarok) , potrebbe in un senso tornare tutto , visto che ora Jon è il re del Nord e Bran suo fratello, inoltre la stessa melisandre in una sua visione nel fuoco scorge una figura che potrebbe essere ricollegata a bran:
Guardando nelle fiamme, Melisandre scorge un volto di legno, con il corpo bianco e migliaia di occhi rossi, accanto al quale v'è un ragazzo con la testa di lupo. Lei pensa che sia il guerriero del Grande Estraneo.
Un ulteriore elemento nel testo lega il Corvo a tre occhi, Bloodraven, gli Antichi Dei, e Bran Stark al tema dell'oscurità, ponendo il Grande Estraneo in totale contrasto con R'hllor. In particolare un passaggio, evidenzia il legame che Bran ha con le Tenebre, e il potere che ne può ricavare:
«Non temere mai le tenebre, Bran.» Le parole del lord furono accompagnate da un debole fruscio di legno e foglie, un leggero movimento della testa. «Gli alberi più forti affondano le loro radici nei luoghi oscuri della terra. Le tenebre saranno il tuo mantello, il tuo scudo, il tuo latte materno. Le tenebre ti renderanno forte.»
3) Tyrion figlio di Aerys II.
Tyrion figlio di Joanna Lannister (Moglie di Tywin) ed Aerys Targaryen ovvero il Re Folle. Aerys era ossessionato da Joanna: se l'avesse stuprata o sedotta, data la presenza della donna ad Approdo del Re durante il concepimento del Folletto, Tyrion risulterebbe fratellastro di Daenerys, ergo Targaryen. Tra i Targaryen era facile inoltre vi fossero bambini con patologie o malformati (di solito avevano anche caratteristiche da drago come protuberanze a forma di ali o pelle quasi squamata. Inoltre i capelli di Tyrion non sono oro Lannister ma più tendente al platino. La tesi è avvalorata da molti riferimenti di Tywin, che potrebbe essere stato al corrente della cosa o magari averne il sospetto. (ricordiamo frasi come "La legge ti dà il diritto di portare il mio nome e indossare i miei colori dato che non posso provare che non sei mio figlio", o "Tu non sei mio figlio"). Come altra prova abbiamo la capacità di Tyrion nel comunicare con i draghi , che difficilmente si lasciano avvicinare da chi non ha sangue Valyriano.
4)Azor Ahai
Tendenzialmente le due possibilità più votate per essere la reincarnazione di Azor Ahai, ovvero l'eroe che con il sacrificio di Nissa Nissa, la sua amata forgiò "Portatrice di luce". L'arma con cui sconfisse il Night King e ricaccio indietro l'oscurità, sono due. Ovviamente in poleposition abbiamo Jon Snow che dovrebbe sacrificare Daenerys, forse con il parto. D'altrocanto una possibilità affascinante sarebbe Jaime Lannister ,che mettendo in atto la profezia descritta precedentemente sacrificherebbe Cersei per salvare Westeros. Ricordiamo che non è nuovo a questo genere di azioni. Visto che nella storia antecedente al Trono di spade ha sacrificato il suo onore e macchiato l'onore della guardia reale uccidendo Re Aerys per salvare centinaia di migliaia di vite (si dice quasi 500000 abitanti) da quest'ultimo.
5) Rhaegar Targaryen è vivo ed è Jaqen H'ghar
Questa teoria è stata addirittura messa in giro dall'attore di Jaqen de Il Trono di spade , Tom Wlaschiha infatti nell'intervista rilasciata per Express ha dichiarato :
"Se cambi l'ordine delle lettere di Jaqen H'ghar, puoi formare la parola Rhaegar"
Proseguite la lettura con le altre teorie prossimamente nella parte 2! Saranno le teorie più improbabili de il trono di spade!